Ponte di Riocchio activities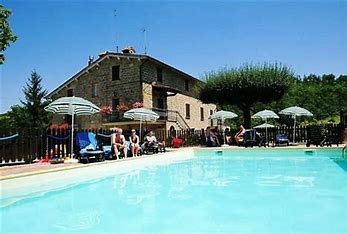 If you are looking for an an active holiday, Ponte di Riocchio, Experiential Agriturismo in Gubbio, offers different activities to experience a regenerating stay, surrounded by relaxing natural landscapes and with the opportunity to taste the pleasure of being in the open air.
The swimming pool
The summer swimming pool, large and spacious, is always available to our guests, to cool off on hot days or to relax after a day spent visiting the wonderful art treasures of Umbria.
Horse riding and cycling tours
Upon request, it is possible to organise horseback riding and cycling tours to discover the most picturesque views of our land.
Yoga lessons
Yoga and deep relaxation lessons, even one-to-one, are the perfect opportunity to discover again the perfect harmony with nature and with ourselves. You may even reduce stress, tensions and boost positive vibes.
By joining the activities offered by Agriturismo Ponte di Riocchio, you have the chance to take home a richness made of simple things and ancient wisdom
Agriturismo Ponte di Riocchio is located along the Franciscan path, a perfect way to dive in the silence and clear your thoughts.
Contact us now for more information or to book your holiday. You can choose to stay in the rooms or the flats and decide, day by day, the type of treatment to be made.