Breakfast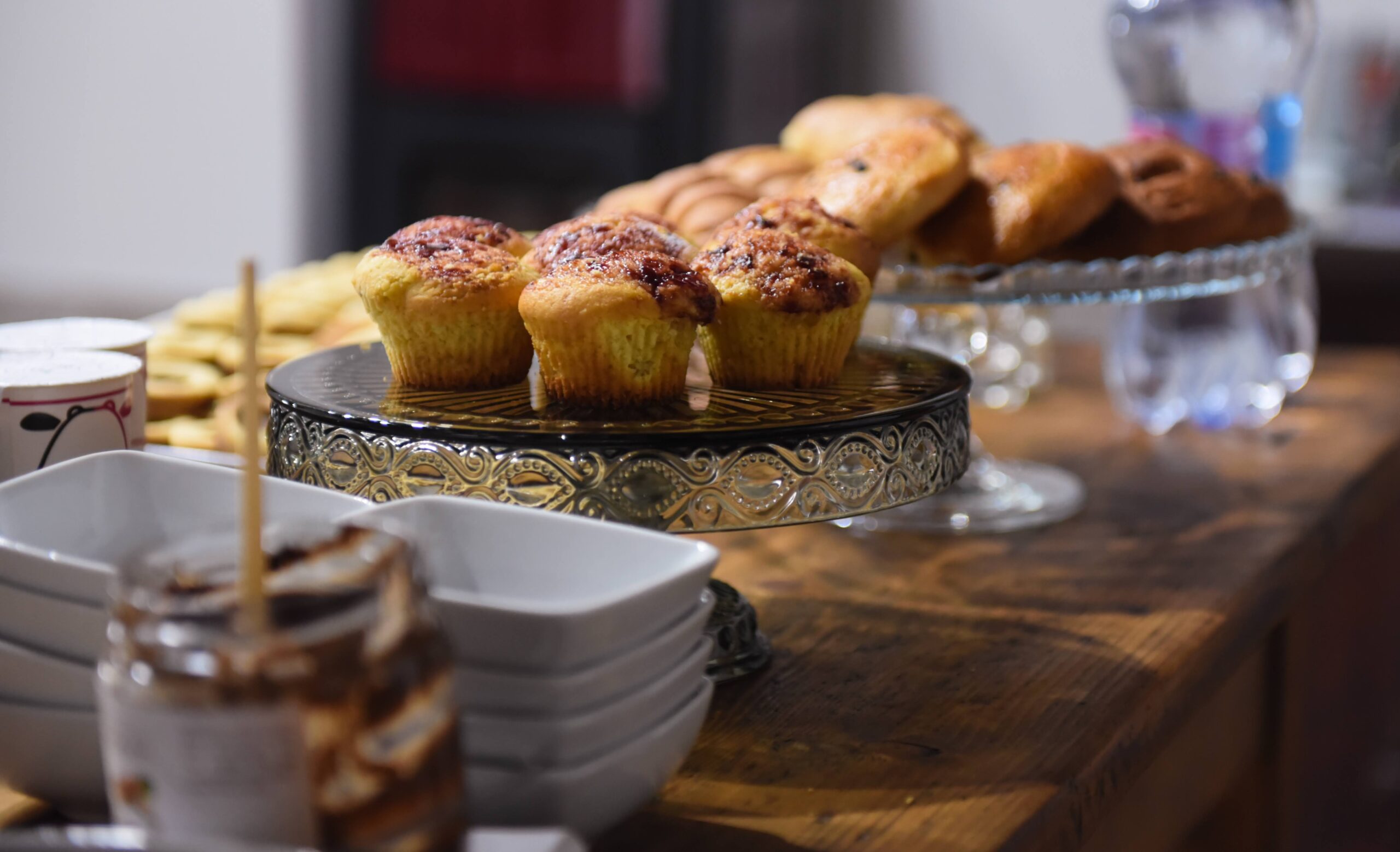 Breakfast is a serious business as it is the most important meal of the day and should be eaten unhurriedly and with a smile'.
That's what my grandmother used to say.
First you find our tables set with saucers, cups, mugs and glasses all different but all very special. They immediately take you back to a small old world, made up only of love-filled signs.
Additionally you find our smile and a rich buffet with many sweet and savoury delicacies, which make this moment a real experience for your taste buds!
Delicious doughnuts, tarts, a mouth-watering selection of shortbread biscuits and our homemade jams. Furthermore muesli, fresh bread with butter and farmhouse yoghurt, freshly squeezed orange juice, healthy fruit extracts, nuts from our own trees and fresh seasonal fruit.
On the savoury buffet table, you will find cheese, always produced on the farm, and we recommend combining it with honey or jam, ham and eggs. They will give you the boost you need for the whole morning!
On request, there is also a gluten-free breakfast because everyone at Ponte di Riocchio must enjoy our good morning. Everything well blended with a nice cup of artisan coffee always from Gubbio or a cappuccino, or tea or infusions at will.
Eggs, flour and other raw materials we use to prepare your breakfast come from our own farm or from small, local, certified organic producers. While you continue daydreaming, you can ask us for advice to make your stay even more unforgettable.
It is our pleasure to suggest what to visit or how to reach the destinations you have set out for yourself: Umbria is such a rich land!
The breakfast room at Agriturismo Ponte di Riocchio is located in the veranda from whose windows you can admire Gubbio in all its majesty, and take in the beauty of the wonderful countryside that surrounds us. Throughout the year, on request, we make take-away baskets to enjoy outdoors.
Outside each room there is a patio where you can enjoy your basket, read a book or lose yourself watching the starry sky.
Breakfast time is from 8.30 to 10.00 am.
For any other requirements, simply make arrangements the night before. All that's left to do is to sit down and have breakfast together because food is part of the journey!